Shaper of Air – Now Available on Amazon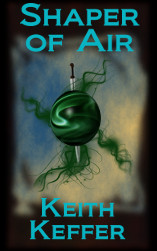 After a few delays, I'm thrilled to announce the release of Shaper of Air, the second book in The Shaper series.  If you enjoyed Shaper of Stone, you'll love this exciting sequel.
Grab your copy today.
---
I'm Devin Symms, the last of the Shapers. I possess the power to alter the world by will alone. At least that's the theory. It hasn't quite worked out that way. It might be easier if I was actually from this world.
I'm not. A crazy old man opened a portal to Earth and pulled me through. He held me prisoner while siphoning my power to create an even larger gateway, one that would allow him to restore the souls of the dead.
Yeah, that didn't quite work out either. He's gone, but I'm still here with no way home.
Something came through the second portal before it collapsed. Dark shapes that scattered across the land in a mad scramble for human hosts. They are embraced as gods by some and feared as monsters by others.
With the aid of my friends, I'll travel the kingdom and beyond to discover the secrets of these creatures.
I have to. They made it personal.