Battle of the Books – 2015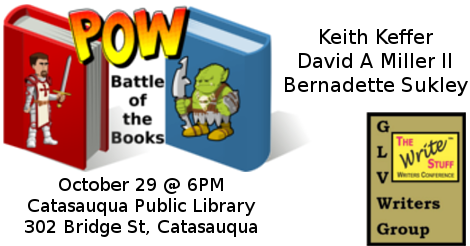 Join me at the Catasauqua Public at 6PM on October 29 for the latest skirmish in the Battle of the Books. Three authors, David A Miller II, Bernadette Sukley and I will read sections from our novels. The audience will vote after each section, picking the story that they like the best.
This will be my second Battle of the Books. The first one was at Nazareth and we had a fantastic turnout with great audience participation.
After the Battle, the authors will be available to sign books and answer question. I'll have a limited number of copies of Shaper of Stone and Shaper of Air on hand, and with some luck I'll also have copies of Disturbance.