Disturbance

Disturbance, a collection of thriller short stories published by Laurel Highlands Publishing will include my story "372."  The contract is signed and my final draft (fingers crossed) has been submitted.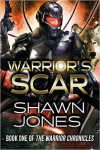 I don't know who all of the other authors are yet, but I have learned that the incredibly talented Shawn Jones, author of The Warrior Chronicles, is one of them.
My story, "372" is about an older man, living alone except for a small dog, looking forward to a visit from his daughter. Before she arrives he finds himself trapped in his home by a beast. With his daughter on the way, he has no choice but to make a stand before she walks into harm's way.
It is scheduled for release near the end of October, 2015.